Want to improve sleep quality so your day's focus and quality can be better too?

"Scent of Sleep" is an essential oil tube/roller that acts as a 3-pronged natural aid for sleep:
Lavender oil as aromatherapy may improve sleep quality
Train your memory association of this simple scent with sleep
Meditate on the scent to silent thoughts and distractions
To be applied around temples and below the nostrils. For a more intense scent, apply around nostrils.
Ingredients: virgin rosehip oil, lavender essential oil, bergamot essential oil
10ml (0.3 fl. oz.)
Customer Reviews
11/11/2020
Felicia s.

Malaysia
Scent of sleep
First few times didnt make a difference except for the lovely soothing fragrance of lavender.. Seeked Ben's advice t. He said give time for it to work. Now i am a knock out in few mins...would recommend to anyone needing sound sleep give it a try.
08/18/2020
Ahmad Z.

Malaysia
An okay product
Need to be careful when putting it near your nose/eyes as it may enter your eyes/ mouth especially if you're sideways sleeper like me. overall an okay product and worth the price. personally i'd prefer sleep plus pillow spray but it is much more expensive.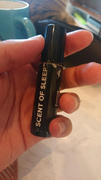 04/24/2020
Alyssa N.

Malaysia
Sleep problems gone away
I sometimes have problems in maintaining the same sleeping time and especially during MCO sleeping early seems to be a huge problem. So ive decided to try scent of sleep from focusfoods and it worked for me, i was able to sleep without any disturbance that night but my partner thinks its just all in my mind psychologically. As days go by, using it daily. He then decided to give it a try and guess what now he's using it too! Guess no psychological effect here.