Stop paying RM12-15 per serving of kombucha.
Enjoy kombucha at home now for RM2.30/serving.
SCOBY-fermented black tea leaf in powder form; infused with brewed apple cider vinegar.
Our Instant Kombucha with Apple Cider Vinegar is:
Micro-encapsulated: All nutrients encapsulated until dissolved with water.
Unflavoured, unsweetened: Versatile. Enjoy it as it is or add to your favourite juice (or even green tea!).
Zero-alcohol: No buzz means it's suitable for all-day consumption.
Fermented black tea leaves from Alishan Mountain: It's sustainable and you know where it's from, every time. No more guessing the source of ingredients or from vague "handpicked selection of tea leaf".
Rich in polyphenols and flavonoids for:
Anti-oxidation
Anti-inflammatory
Gastrointestinal health
Better metabolism
Detox
Just mix approx. 2 teaspoons with water (cold or hot) and enjoy.
Only 15kcal per serving.
Customer Reviews
Game Changer!!
This is Amazing, I was not sure at first with ACV on Kombucha as both of these aren't known for the tastes.This guys actually got this very RIGHT. Perfect blend of ACV and Kombucha tastes like Iced Tea and when you drop a little Lemon juice and ginger it is a game changer.
03/31/2021
Ee L.

Malaysia
Good stuff
This ticks all the boxes - no sugar ie far less sweet than store bought, convenient and reasonably priced. Pleasant tasting too!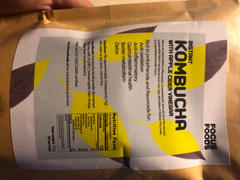 03/15/2021
Candy N.

Malaysia
Taste is so good
The kombucha taste is so good, I take 2 cups per day. Taste like Lemon Tea without sugar, it's really suitable for people like me not really like sweet foods and drinks. Thanks Focus Foods