We packed pure stevia in an ultra-convenient bottle so you can carry it anywhere and let not yourself succumb to unnecessary sweets.
The reason it's hard to find pure stevia out there is because most brands are afraid of selling too little of something, hence you'll often find stevia mixed with unnecessary fillers, like xylitol, dextrose, maltodextrin, etc.
But Focus Foods believes you know to handle pure stevia properly and there's no need for unnecessary fillers. We searched high and low for the best packaging available and decided on a snuff bottle that's meant for cocaine - but repurposed to help you kick a (sweet) habit rather than develop one.
Half a teaspoon of stevia = 1 cup of white sugar
Among other things, use it for:

coffee or tea
hot or cold cereal
smoothie
yogurt
lemonade, etc.
Directions: Use spoon provided (fixed and attached to the lid) to put a dash into any beverage at any temperature. Then stir. Add more to taste.
Ingredients: 95% steviosides, 5% carrier.
Nett weight 7.5g - equivalent to about 150 teaspoons of white sugar
Customer Reviews
01/03/2022
Kamarudin A.

Malaysia
Stevia
It tastes better compared to other sugar replacements, no after taste and no weird sensation on the tongue.
03/18/2021
Eric Y.

Singapore
Guilt free sweetener
Very good quality stevia. Taste is excellent. I put a small dash to my coffee.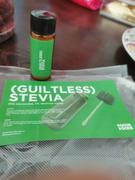 02/11/2021
John L.

Singapore
First purchase
Will try it out soon.. just nice to receive before CNY