"Daily Greens 2.0" capsules
---
Created for those who find Daily Greens 2.0's flavour hard to swallow: our bestseller greens supplement is now available in capsule form.
Our original formulation may help with:
boosting immunity,
improving cholesterol levels,
improving blood sugar levels,
weight loss,
alleviating inflammation,
reduce risk of cancer,
promote skin health and elasticity,
promote bone health + many more.
Each capsule contains:
Spirulina
Organic wheatgrass
Barley grass
Organic alfalfa
Organic kale
Moringa leaf (new to version 2.0)
Pegaga (new to version 2.0)
Chlorella + nothing else
Each glass jar contains 300 vege capsules. 5 capsules per serving, to be taken twice daily.
Daily Greens is also available in 8g daily sachets:
Click here to check out Daily Greens 2.0 in daily sachets.
Customer Reviews
Daily Greens 2.0 capsules
I'm 50 years old.Was taking the Daily Greens in powder form but switched to capsules as its easy to consume.So far i noticed an improvement to my skin.Not so dry n radiant looking.
08/04/2021
Shafinaz M.

Malaysia
Love the capsules!!
I could not bear the taste of daily greens in sachet and decided to consume the capsules instead. Definitely one of the best decision I have ever made. I get my daily dose of greens which helps to detox - smooth bowel routine and it was easily consumed. Will definitely repeat order!!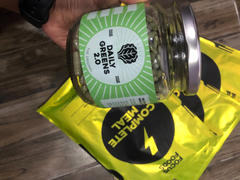 07/10/2021
Athirah

Malaysia
I'm so glad that Daily Greens are in capsules now! I've been drinking Daily Greens since last year, my skin is glowing and no more eczema. And my husband didn't like the taste, now he can just take the capsules.