"Daily Greens 2.0" - 1-month pack
---
Daily Greens 2.0 is finally here, with added moringa leaf and pegaga.
Only RM3.33 / SGD1.10 per day.
Why let people remind you about eating vege when you can do it yourself, much more conveniently?
Greens may help with:
boost immunity,
improving cholesterol levels,
improving blood sugar levels,
weight loss,
alleviating inflammation,
reduce risk of cancer,
promote skin health and elasticity,
promote bone health + many more.
Introducing "Daily Greens", a month's supply (30 daily sachets) of greens in powder form:
Spirulina
Organic wheatgrass
Barley grass
Organic alfalfa
Organic kale
Moringa leaf (new to version 2.0)
Pegaga (new to version 2.0)
Chlorella + nothing else
Simply add to any beverage, dishes or our Liquid Meal.
Per 8g sachet/serving: 41kcal, 3g protein, 4g carbs, near zero fats.
Halal. Packed in a GMP facility.
How should I have take it?
Mixed with water, on its own
Mixed with water, with condiments/flavouring of your choice (e.g. cocoa, honey, etc.)
Sprinkled to your food
Mixed with Liquid Meal
How does it taste?
Unflavoured, i.e. green but not overwhelmingly so. To add a bit of taste, we recommend putting honey. However, be mindful of honey's sugar content - natural sugar is still sugar!
When should I have it?
Whenever, really. Each serving has barely any calories.
Customer Reviews
11/26/2020
Harry K.
Malaysia
Your shipping is taking too long
11/22/2020
Eiffel C.
Malaysia
11/18/2020
CHEE C.
Malaysia
Great product but delivery is ridiculously slow
I love the product, drinking it everyday and I'm on monthly subscription. But the delivery is ridiculously slow, this is the 9th day after my order and I haven't receive it yet. And this is not the first time it took that long. Please change your shipping provider.
11/17/2020
Miza M.
Malaysia
Daily Greens 2.0 - 1 month pack
Overall quality from the first glance is excellent. The packaging comes in individual packs within a resealable pack. Taste wise I would say it is what it is - greens and versatile. It can be customised to your personal preference. I like to mix it with milk and honey, iced or hot, depending on my day. After almost a week consumption, I can see improvements in term of my digestion and skin complexion. Still, don't forget your water consumption to aid your digestion. Overall, I am happy with the product. I am looking to continue once my 1-month package is finished. Don't believe me? Try it yourself and notice the difference. The outcome varies among us. :)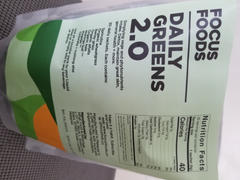 11/14/2020
John L.
Malaysia
Daily Greens 2.0
Good for skin. My skin ia getting better